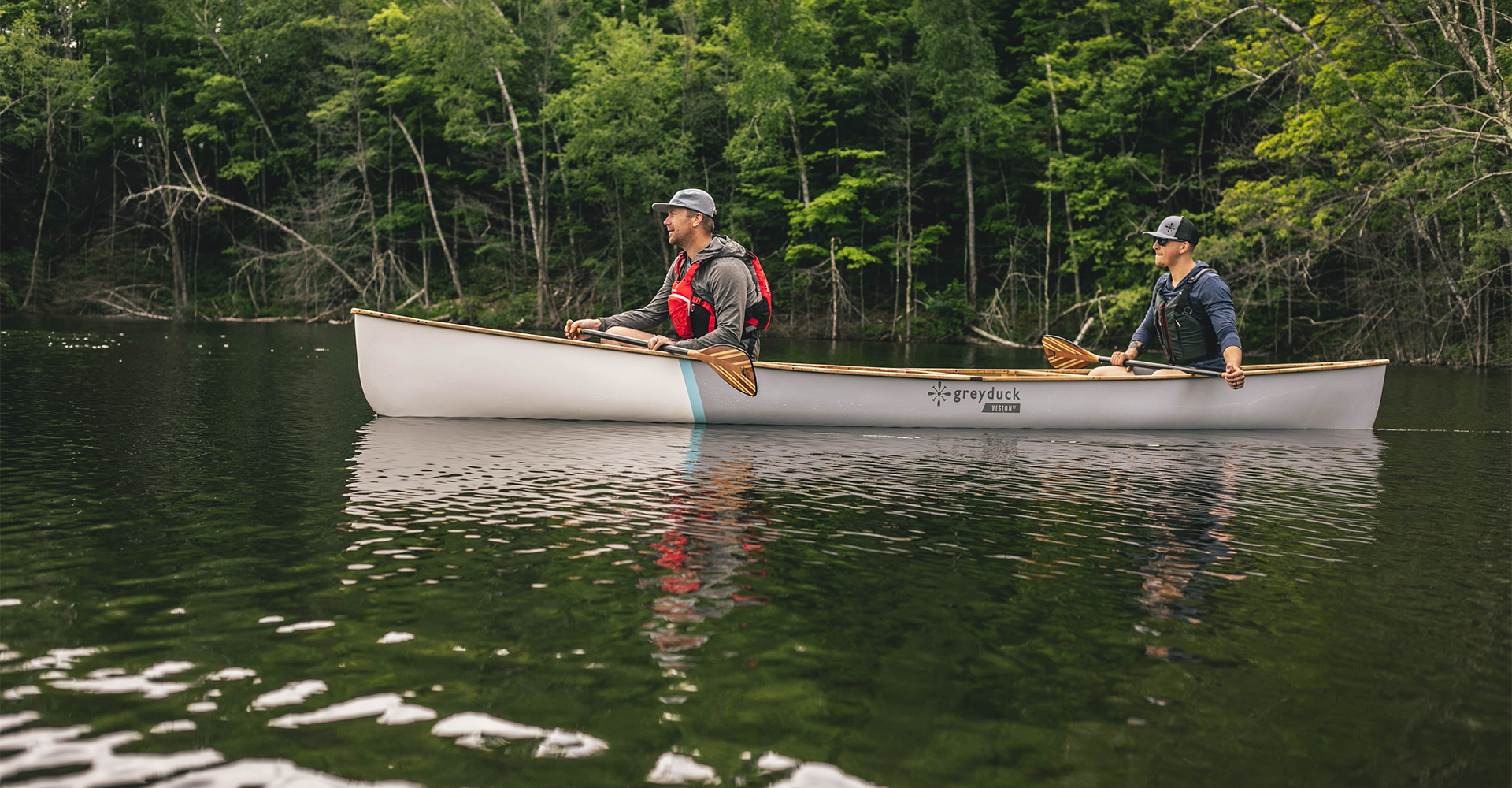 With the success of Grey Duck's SUP line, we were led to find creative ways to offer our paddlers a variety of paddling options. In 2021 we began collaboration with Rheaume Canoes to offer paddlers a canoe built to stand the test of time. We've found this collaboration to be something truly special, and as a result canoes are now a key part of our offering. 
These boats are the "Swiss Army Knife" of canoes - classic designs that can flex between touring and day trips, lakes and rivers, and be comfortable both loaded and unloaded.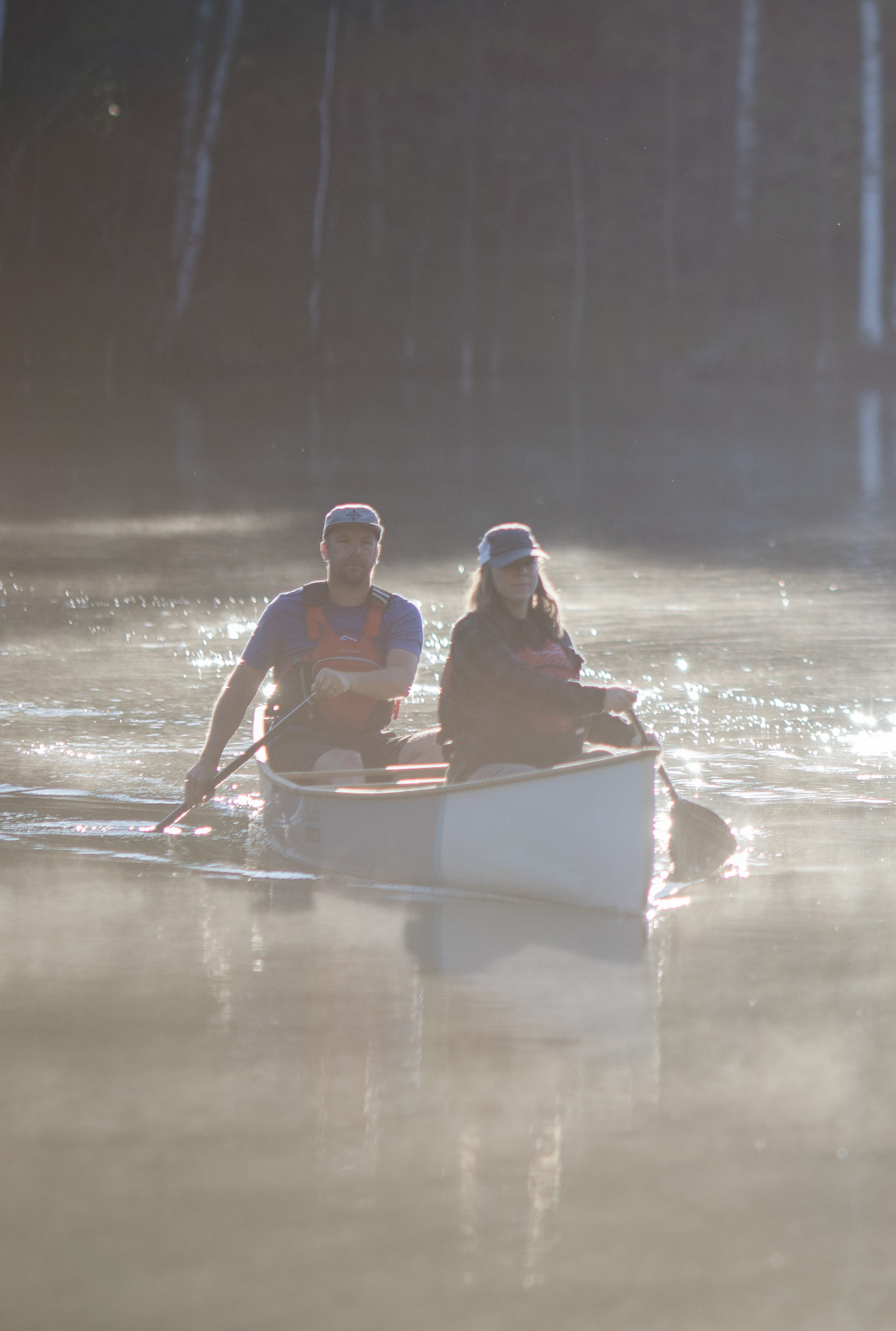 Inspired by Rheaume's craftsmanship and dedication to higher quality, as-well-as the Twin Cities' thirst for a BWCA canoe, we set out to build a lake touring canoe in our Roseville MN location that was truly unique in the marketplace. We started with a simple question - How can we stick to our values and be "Different by Design"?
Bring our manufacturing methods closer to a healthier environment for our workers and our planet. (Legacy Fusion)
Stay true to our innovative core by providing a leap forward in trim methods (Legacy Link)
Create an heirloom product that could be passed from one generation to the next. (Repairable/Accessible Materials)
Provide exceptional efficiency while loaded down for long days on the water, yet stable enough to fish/recreate out of when unloaded. (Hull Design)
Leave the canoe as light as possible without sacrificing durability. (Gelcoat)
Offer Custom options to create your one of a kind paddling experience. (Colors,Cloth,Trim Wood, etc…)
Then came the Vision.
Vision 17: Build Your Legacy
The Vision 17 is a canoe that we think is one of the premier lake touring boats on the market. Here's how we're doing it:
Vacuum resin infusion technology is used to build our composite hulls as opposed to wet laying the canoes. This allows us to lay cloth in our mold dry and then infuse the canoe with resin as the last step in the process. This creates a great working environment, and a strong and light hull with the ideal resin to cloth ratio.
We're trimming out the canoes in wood. The warmth and look is second to none.
At 17'9" long and 34.5" wide, this is a super efficient touring shape. The 1.5" of bow rocker and 1" in the stern creates a canoe with amazing tracking, yet remains responsive to turning on a dime when needed.
Our signature bow-dip color scheme is uniquely 'Grey Duck' and creates the opportunity for a Tri-tone palette that lends itself to an almost infinite amount of color combinations. We also offer a more traditional white bottom look as well. We can fine tune the look of our canoes to match the preference of our customers.
Using MAXGUARD gel coat on our canoes allows us to not only create unique looking boats, but also offer UV and abrasion resistance that we feel is worth the extra effort and slight increase in weight.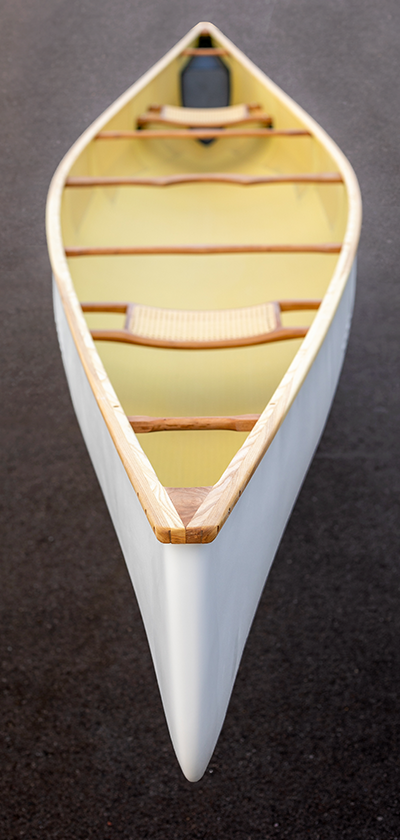 We are extremely proud of the canoes we're offering in collaboration with Rheaume and that we're building in Minnesota. If you'd like to see our build process in person, please come take a tour of our facility. We can't wait to meet you.