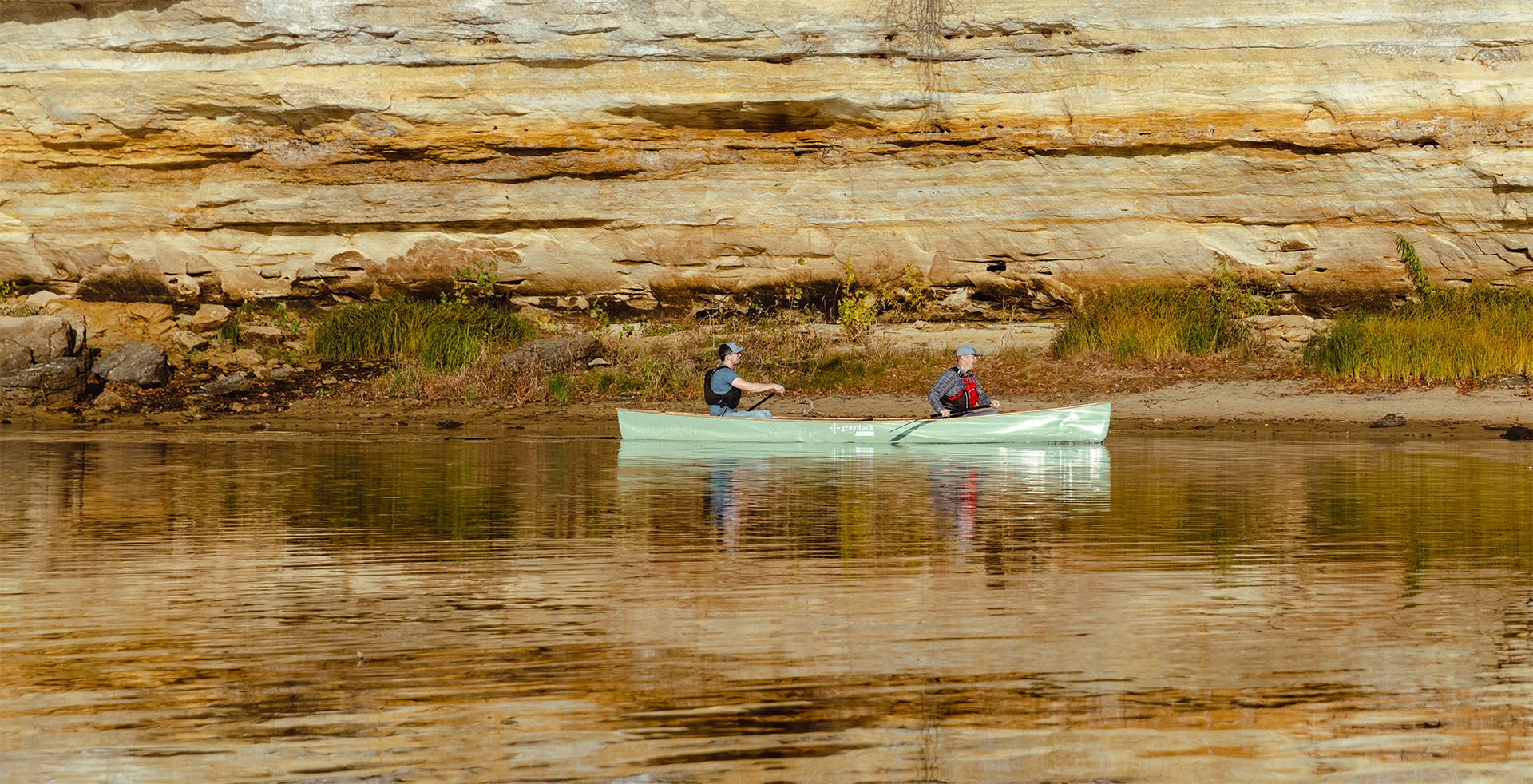 Built in Minneosta
Vision18
We are proud to announce our newest canoe built in Roseville, Minnesota using resin-infusion technology.
Starting Price: $4,099
Custom Order Yours Today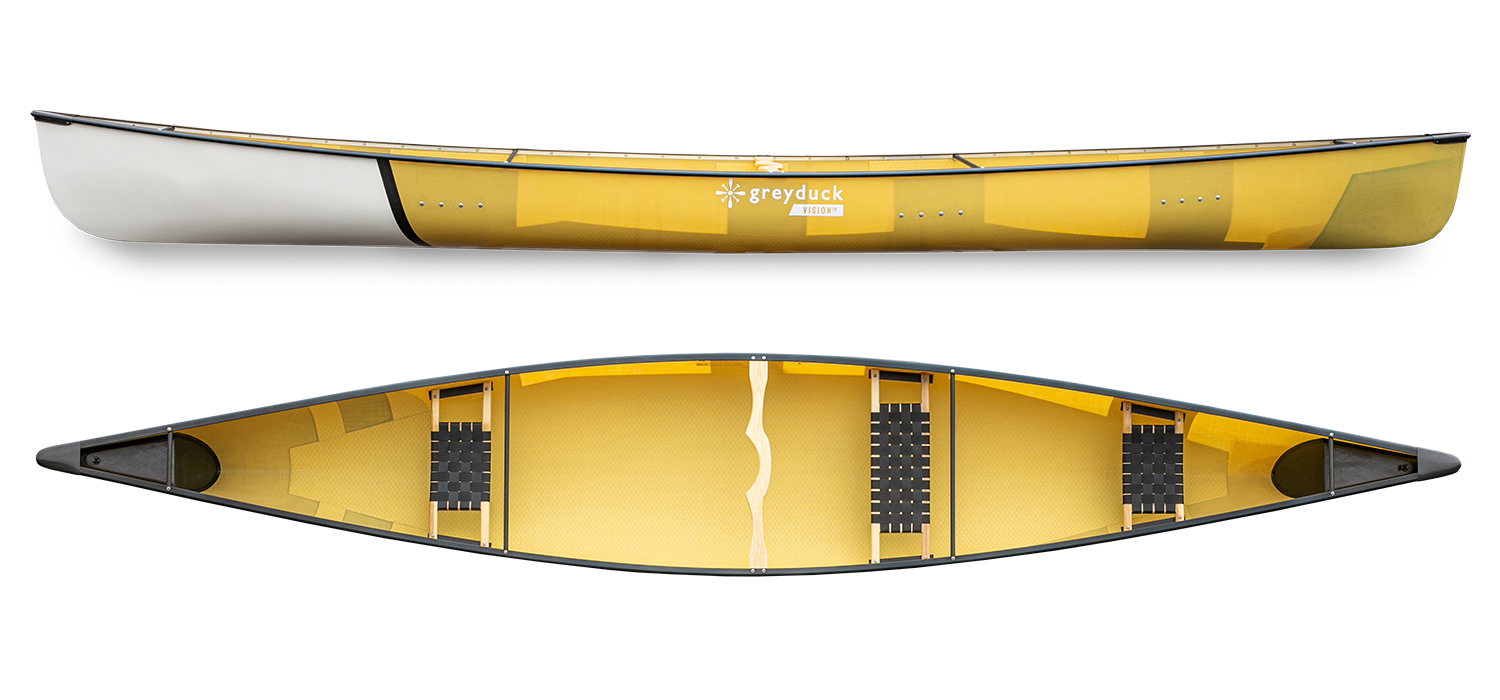 Create Your Vision
HANDCRAFTED IN ROSEVILLE, CUSTOMIZED BY YOU. The Vision18 is our newest model to be built in Roseville, Minnesota. The larger sibling of our Vision17, this tandem (3rd seat optional), flat water-touring canoe follows a shallow arch hull design with great secondary stability. Combining unparalleled efficiency with seaworthiness, this canoe is sure to gain a following among those who like to cover water and appreciate a canoe that inspires confidence regardless of conditions.
This canoe is built using the latest in resin-infusion technology with the added protection of Maxguard premium gelcoat. These canoes are heirloom-quality products meant to be passed along to the next generation.
Purchase at a Dealer
Our dealers will carry a variety of Vision18 build-outs. Visit them for current availability and purchase: Minnesota Canoes - Alexandria MN Chequamegon Adventure Co. - Minocoqua WI
Custom Build Your Vision
On your own or with your local dealer
Follow the steps below and build your legacy today. We have 3 standard laminations to choose from along with several trim systems, add-ons, and custom gelcoat options. It's time for your Vision to become a reality!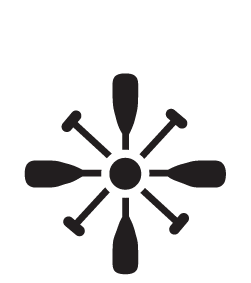 Vision18 Specs
Length: 18'9"
Width: 35" 
Rocker: 1 1/2" Bow, 1" Stern
Weight (with Aluminum Gunwales):
Legacy GOLD- approx 46 lbs
Legacy PRO - approx 49 lbs
Legacy GREY - approx 51 lbs

Build Options
Lamination: Legacy GOLD/GREY/PRO
Trim: Clear or Black Alumi-Link, Alumi-Plus, Standard-Link Wood, Legacy-Link Wood
Color Options: Clear, Tinted, Full Pigment Gelcoats
Seat Mounts: Anodized Black Aluminum or Carbon Fiber
Extras: Sliding Bow Seat, Third Seat
built to last
Legacy Lamination
Legacy GOLD / PRO / GREY
Grey Duck Outdoor's Legacy Lamination keeps up with the demands of the modern paddler in performance and integrity while striving to be as eco-conscious as possible. 
By laying our cloth in the mold dry and placing our hulls under vacuum pressure before injecting resin into the cloth, we eliminate the opportunity for VOC emissions to escape into the atmosphere which creates a healthier working environment. We also increase the working time so each part of the canoe is placed precisely with unparalleled quality control.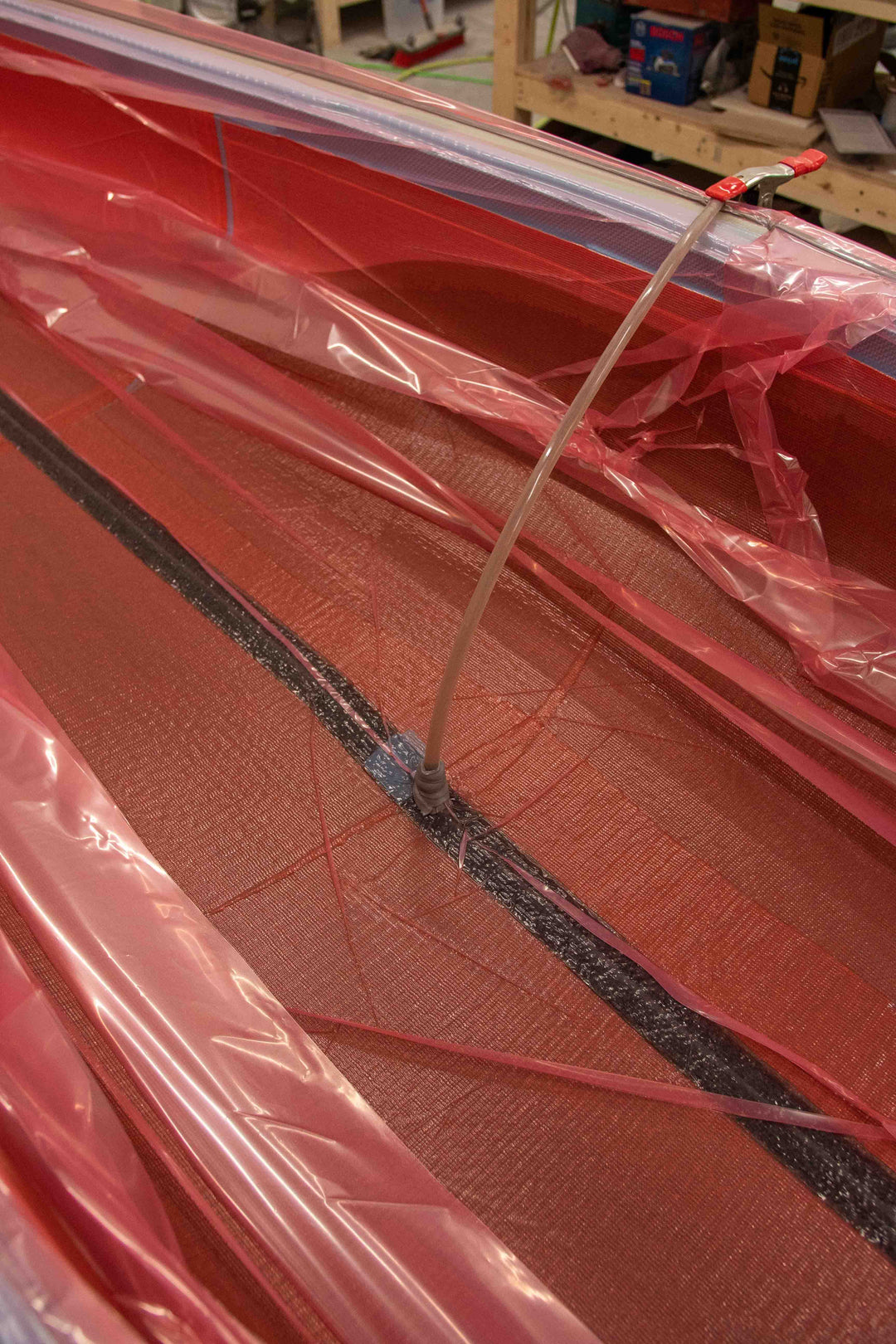 Legacy GOLD
100% Aramid
Legacy GOLD provides the familiar yellow appearance and classic performance of aramid. Lightweight yet durable, this combination of materials is industry standard and performs exceptionally well in most paddling conditions.
Ideal Application: Extended Wilderness Trips by Attentive paddlers who want to treat themself to a lighter portage and paddling experience.
Weight: Approximate weight of the Vision18 with aluminum trim in the Legacy Gold lamination is 46 lbs.

Legacy GREY
Basalt / Innegra / Aramid
Legacy GREY is our shop favorite. The soft grey interior finish of the basalt-innegra harmonized with our stunning trim packages and gelcoat palette creates a warmth and esthetic that is second to none. This canoe is built to last a lifetime while coming in at a final weight that is acceptable to most paddlers who spend more time paddling than they do carrying their canoe. If you want to invest in a canoe that you are certain will be enjoyed by future generations, then Legacy GREY was designed for you.
Ideal Application: General purpose paddling with the capacity for rugged wilderness tripping and inattentive children at the cabin.
Weight: Approximate weight of the Vision18 with aluminum trim in the Legacy GREY lamination is 51 lbs.

Legacy PRO
Carbon / Innegra / Aramid
Legacy PRO is for the paddler that wants to discover the unknown and see what's just beyond the bend. Being our most versatile lamination, this is a "do-everything" recipe that provides the flexibility of Innegra, toughness of aramid, and efficiency of Carbon. If you want a light-weight option that can put up a fight with wild lakes and rivers then you will find a capable companion in Legacy PRO. Astounding beauty matched with the best features of our GREY and GOLD laminations, Legacy PRO brings you to the leading edge of composite canoes in the modern era. Standard options also include Translucent Red, Blue, and Green Gelcoat for a colorful cloth finish only available in Legacy PRO.
Ideal Application: Local lakes and rivers with an annual backcountry trip in mind, for the paddler that's ready for anything, anywhere, anytime.
Weight: Approximate weight of the Vision18 with aluminum trim in the Legacy PRO lamination is 49 lbs.

innovative
Infusion Process
Cleaner air + Better Working Conditions: Removes VOC emissions as opposed to "wet-layup" methods.
Stronger hulls: Better resin to fiber ratio than "wet-layup" for optimal performance and durability.
Consistency: Increased Quality Control and Less Weight Variance.
Trim Packages
Legacy-Link
This is the point at which Grey Duck has stepped away from the pack and innovated a classic concept. By integrating our cross-pieces with the gunwales, we have created a stronger trim system that leaves less chance for end grain rot or bolt torque, while also creating more clearance for gear and achieving a finished look that is exceptional in beauty. There is no doubt from paddlers that legacy-link is a step above and worth every penny.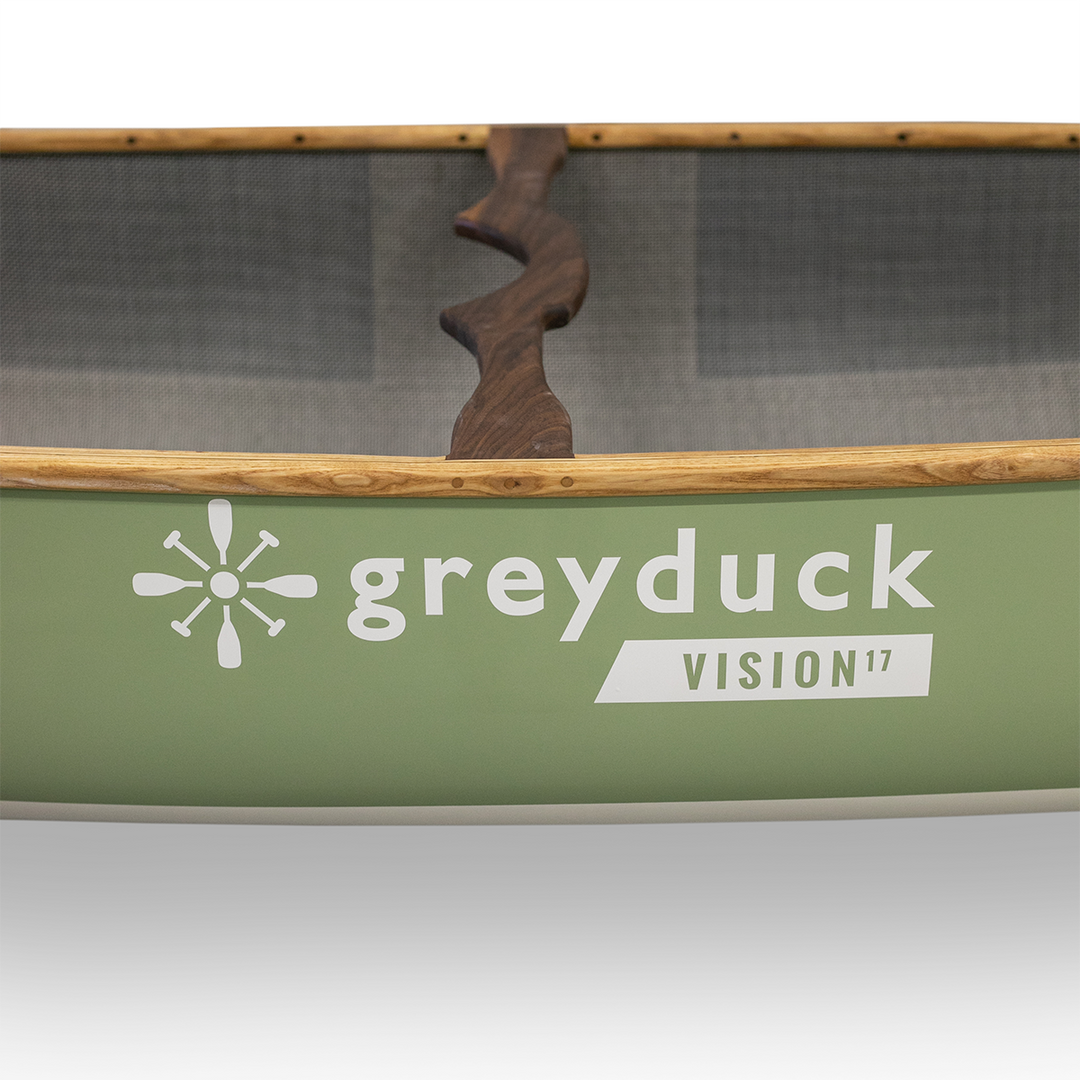 Standard-Link
Our Standard-Link wood trim package follows a conventional trimming method that leaves little need for explanation. Ash gunwales and domestic wood components are neatly fastened with stainless steel hardware providing a subtle contrast and classic aesthetic. All manufactures use this method for its simplicity, repairability and ease of construction and so do we. 
This trim package comes standard with ash parts and aluminum seat mounts.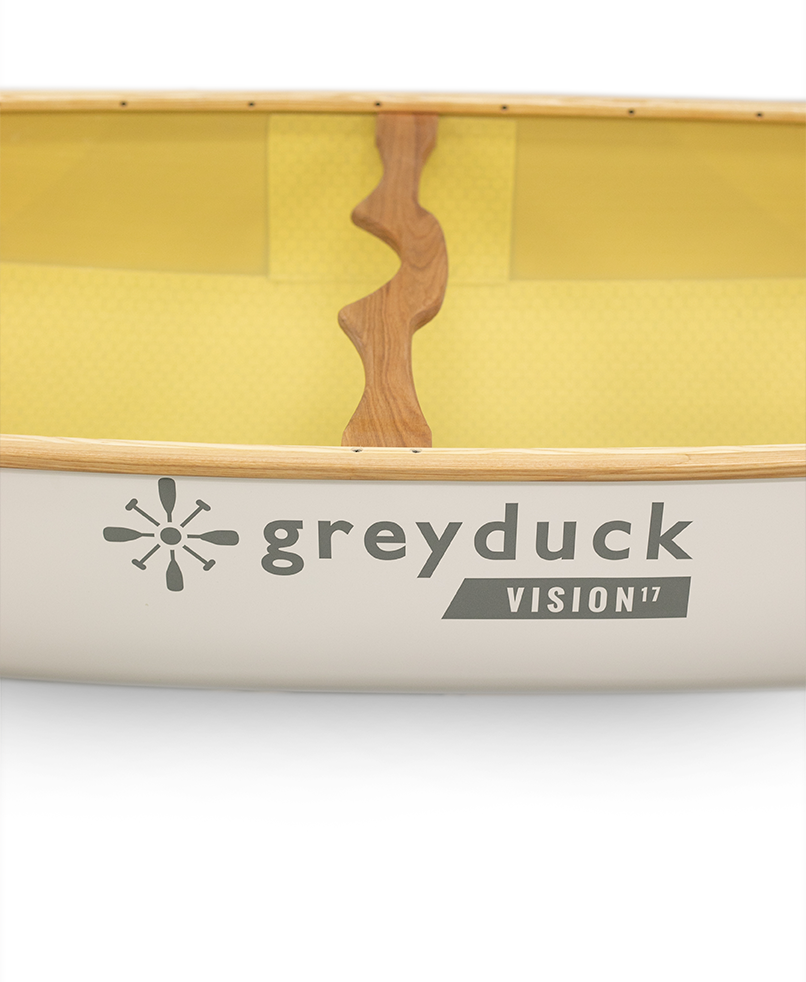 Alumi-Link
Our Alumi-Link trim package is a lightweight and maintenance free trim that doesn't break the bank. Clear or Black anodized aluminum gunwales featuring a solid wood yoke provides a familiar aesthetic. Those looking for a lightweight and maintenance free trim option will find their match with our Alumi-Link trim system.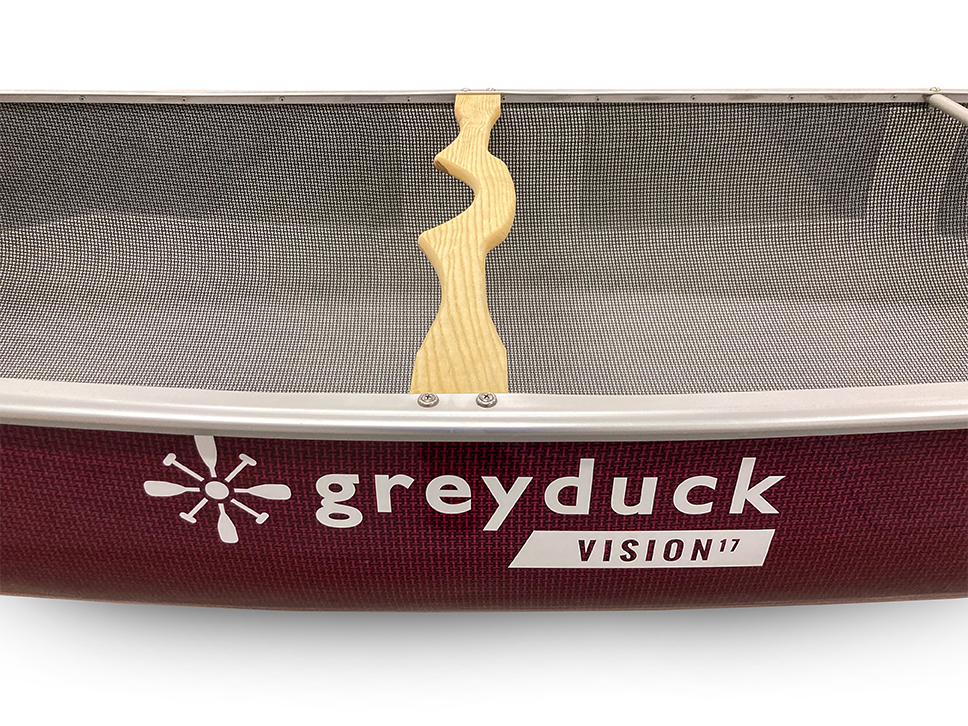 Gelcoat Options
Offering clear, tinted, and solid pigment Maxgaurd gelcoats along with bow-dip and two tone design options, the possibilities are endless! Stock gelcoat options are represented below and readily available. Our Custom Shop is here to help you truely express yourself through countless color combinations - we'll do what we can to bring your Vision to life!

Legacy GOLD Gelcoat Options

Legacy GREY Gelcoat Options

Legacy PRO Gelcoat Options
Seat Options
Our standard seat mounts are black anodized aluminum. Upgrade to carbon fiber seat mounts for a more sophisticated look and weight savings of 1 lb.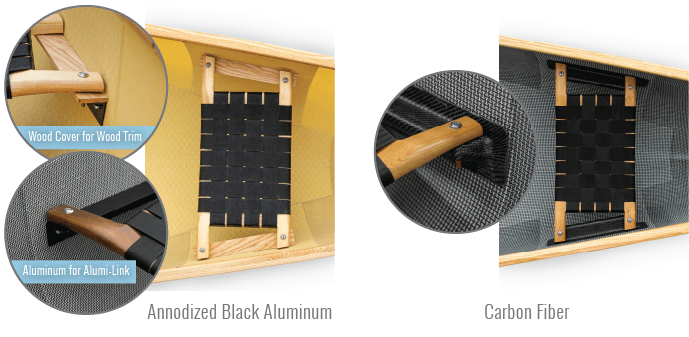 ROSEVILLE, MN
Factory Tours
Learn more about the process of building the Vision18 by attending a factory Tour. Register for a tour of our Roseville, Minnesota headquarters.