TEAM GREY DUCK
We wouldn't be where we are (or get to where we're going), without the help of some talented people who love the outdoors and helping a small business grow. If you see any of them around, make sure to give them a hug or high five. They are the best! 
Founder + Owner
Rob Bossen
I'm a father, husband, and lover of the outdoors. I also happen to be the owner of Grey Duck Outdoor, and am happy you found us. I spend most of my days acting as a sales representative for multiple outdoor brands in the outdoor gear space, covering the Upper Midwest.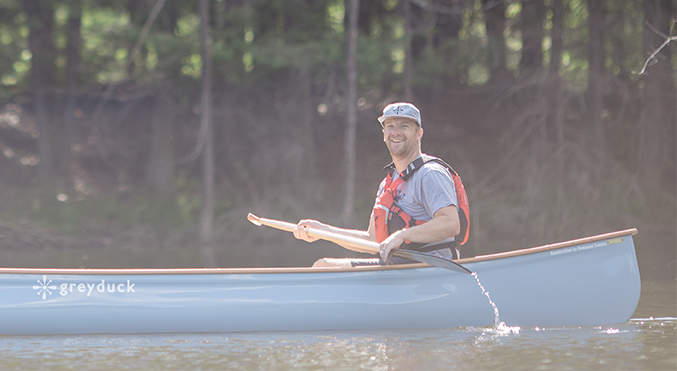 Favorite Board: 12'6" Quetico - this board is literally my dream come true and is my go-to in almost all conditions. The 11'2" All Day Hybrid is a close second - the versatility and stability of this board is pretty amazing.
Favorite places to paddle: BWCA or Quetico (for extended adventures), Lake Superior (as a reminder of how vast this planet is), and the Namakagon River in WI (to change it up and get some moving water underfoot).
Must have items on my board: Water, Snack, GoPro, Sunscreen.

Lead Canoe Developer
Eli Nord
I am a Family Man, Outdoor Sportsman, and Canoe Designer/Enthusiast. My Father (Kent Nord) trimmed canoes for Bell Canoe Works and taught cedar strip canoe building for Northwest Canoe in the 90's. The smell of wood dust and resin is nostalgic to say the least. My passion for paddling and David Yost designs deepened when I purchased my first solo canoe in 2013 (Bell Wildfire).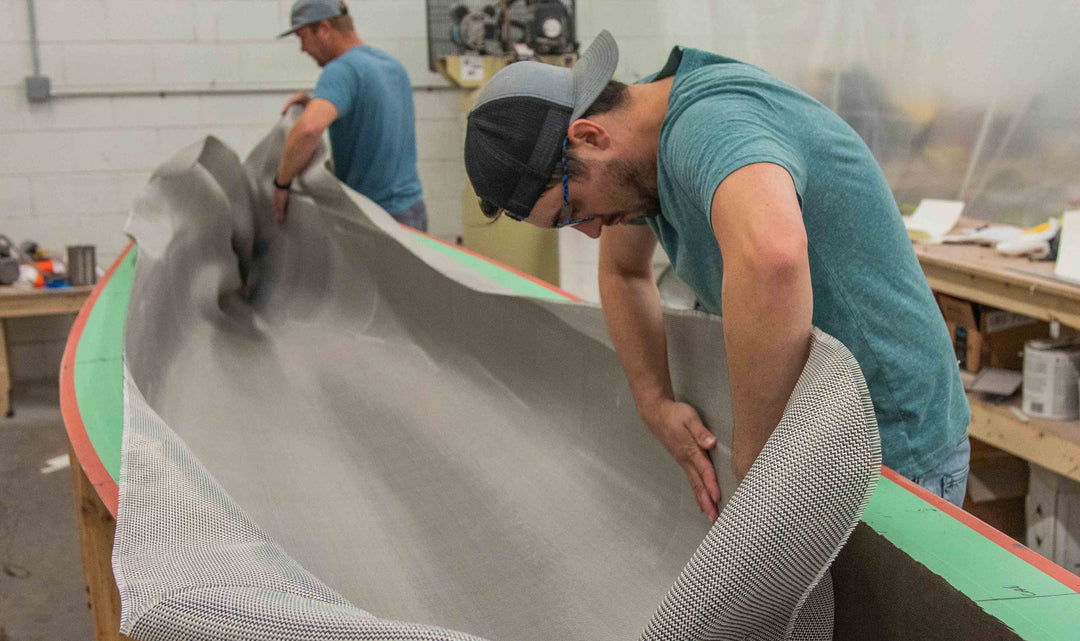 From 2016-2018 I gained first hand experience from the great Ted Bell himself while building exceptional watercraft for Northstar Canoes. It was there I had the opportunity to meet and work with my hero David Yost as he was in the process of handing down his legacy to my mentor Charlie Thompson (who is credited with introducing me to Infusion, the basics of design, and the complex world of composites tooling). To these Masters I owe my gratitude and continue to admire their shining example. As a designer I draw great influence from my upbringing among some of the greatest canoes, builders, and designers of our time. I plan to make my contribution to canoe design and paddling innovation over the oncoming years at Grey Duck Outdoor.
Favorite Boat: The Vision17 will always have a special place in my heart. Being the first canoe I designed to go into production is one reason, but the unparalleled performance and comfort keeps me coming back to the Vision17 every time. 
Favorite Places to Paddle with the Vision17: For a misty morning paddle, the lazy current of the St. Croix River near my hometown of Stillwater, MN cannot be beat. A crisp autumn day paddle along the cedar studded banks of Ottertrack Lake in the BWCA is a close second. A warm 4th of July evening on Dry lake in Ely, MN bears memories I will never forget.
Must have items with me while I paddle: Blueberry Crisp Clif Bar, Spin Rod with a jointed Rapala, Wool Socks, Ben's 100, Hydration bladder and lots of patience for the wind.

Creative
Emily Hendricks
I am a mother, graphic designer, photographer & videographer who loves to travel, be outdoors, and drink all the coffee. I found SUP through a friend of mine and quickly fell in love with the peace and perspective it brings to time on the lake.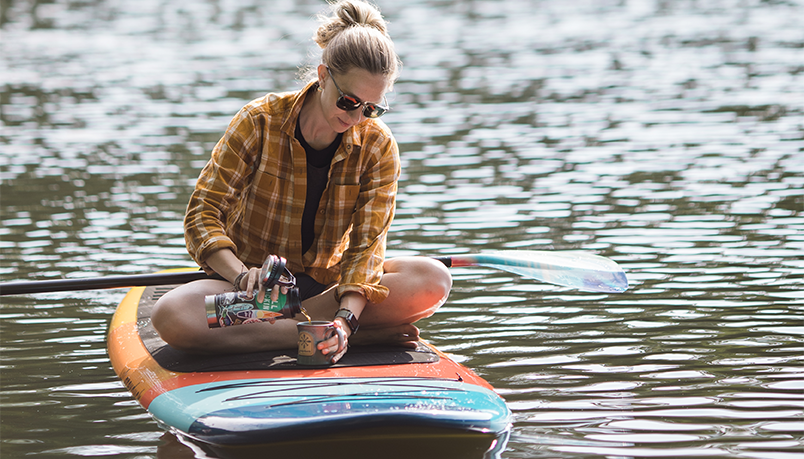 Favorite Board: The All Day Hybrid (with the Journey coming in second). I used the All Day Hybrid this past summer and having the ability to fish, sit or stand, have my daughter with and still feel stable was incredible.
Favorite Place to Paddle: I have a couple different spots to highlight… The Minnesota local favorite is Square Lake in Stillwater. The water is SO clear, but it can be busy, so… The 2nd place Twin Cities lake is the Lake Phalen chain of lakes. You can start at a boat launch and explore a chain of multiple lakes, creeks, and channels through beautiful parks. The most beautiful SUP experience I have had was on an isolated lake off the road system in rural Alaska. It was a perfectly clear glacial lake, no cabins or other boats in sight, surrounded by mountains and salmon swimming under my board.
Must Have Item: My must have item to have on my board is a camera… whether it's a GoPro, my phone or my DSLR, I enjoy being able to document my adventures.

Brand Ambassador
Emily Carey
I am a crafter, a cat owner and a nature-enthusiast. I spend my days creating technical solutions for a hospitality company and my weekends on the water. As a native Minnesotan, nothing beats a day at the lake, and paddle boarding has given me new ways to explore and adventure.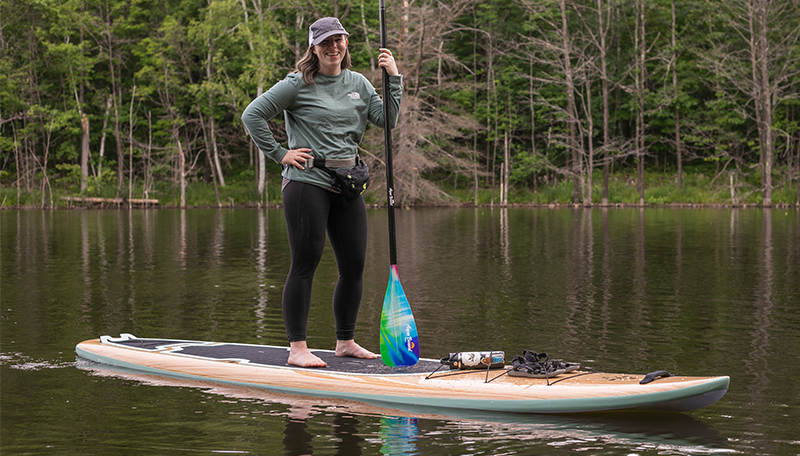 Favorite Board: 11'6" Journey Zebrawood - This board is light weight, easy to carry, and gets that extra speed from the touring shape. Definitely my go to board!
Favorite Places to Paddle: Square Lake is beautiful, on the smaller side and has some of the clearest water around town. For a casual paddle, I really enjoy the Chain of Lakes, specifically the channel between Lake of the Isles and Cedar Lake.
Must have items with me while I paddle: A small dry bag to hold my essentials, sun screen and koozie for the occasional adult beverage or sparkling water.

Brand Ambassador
Jody Henseler
I am a curious, water-loving, artist, with a home port on the shores of beautiful Lake Michigan. Freedom - Adventure - Fitness & Fun -- are why I paddle!
Favorite Board:  12'6" Journey Zebrawood -- total go-to board for every kind of paddle, with the 10'8" Daybreak Zebrawood for yoga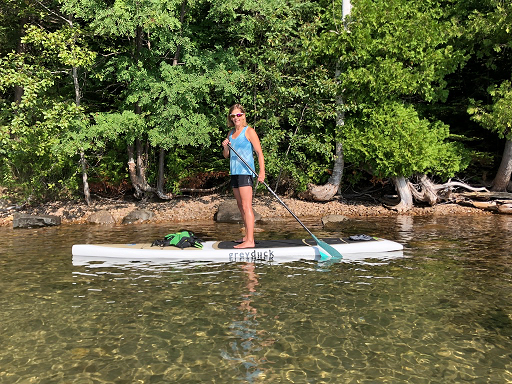 Favorite Places to Paddle: Anywhere with good water… Lake Michigan, Lake Superior, Killarney Provincial Park, wilderness areas (Boundary Waters, Sylvania, Big Island Lake), and inland lakes and rivers.
Must Haves: Deck bag - Water - GoPro - Olympus TG-5 - Mask, Snorkel, & Fins

Brand Ambassador
Benjamin Olson
I am a father, husband, and devoted environmentalist. My life revolves around documenting the natural world and imperiled ecosystems, specifically northeastern Minnesota. I am currently working on a life-long visual study of climate change in our boreal forests in conjunction with the Superior National Forest system and the DNR.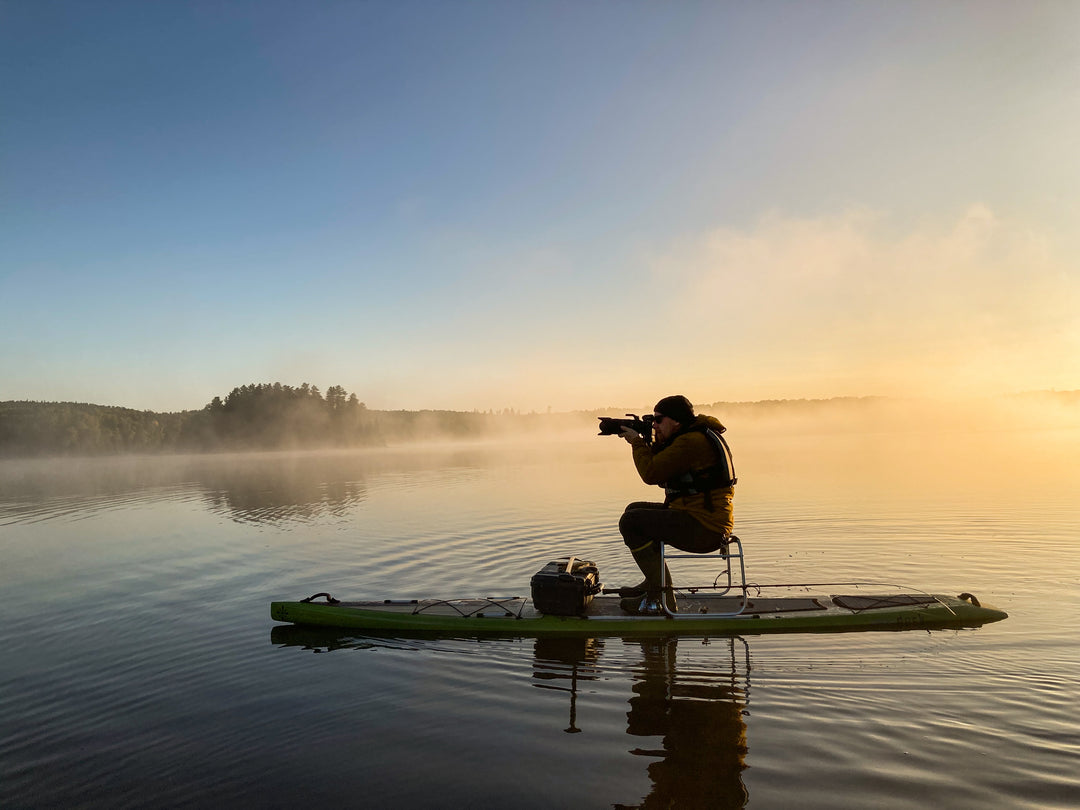 Favorite board: The Quetico14. This board has the stability and support needed for me to photograph wildlife, while carrying all of my gear for extended excursions.
Favorite place to paddle: BWCAW and Lake Superior

Brand Ambassador
Scottie Peterson
I am a husband, and a father, and spend a lot of time traveling as a family. I am a vintage enthusiast and am always bringing things back to life. I've been a wedding photographer for over a decade now but shoot all kinds of videos and photos.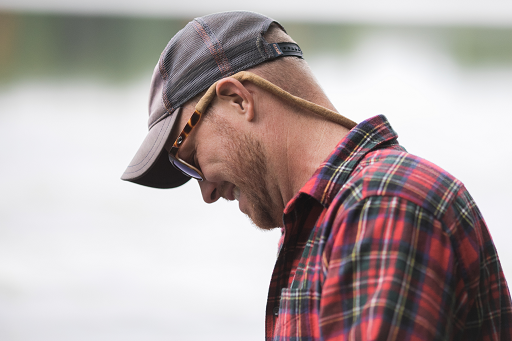 Favorite Board: 
11'2" All Day Zebrawood I fell in love with this board the first time I saw it, and it looks incredible on top of my VW Bus!! It's also a board that anyone can hop on use. It requires very little skill and is the perfect small lake cruiser.
Favorite Place to Paddle: Our Family cabin up north Wisconsin. It's a quiet, no gas engine, lake so it's perfect for the kids, dogs and family to get out on a board and enjoy the outdoors.
'Must Have' items on the Board: Usually a kid or a dog :) But preferably a beer and a fishing pole.

Brand Ambassador
Erik Koffski
@SUPn_nd_North
@Supn_nd_north3933
I am a husband, father, outdoorsman, DIY engineer, and fisherman. I am big on adventure and love being outdoors. I also love creating things that make adventures more fun. I work full time in the outdoor watersports industry and love to fish in my spare time. I fish for fun and competitively in several MN kayak tournament series, but I compete using my SUP! I think you should give it a try....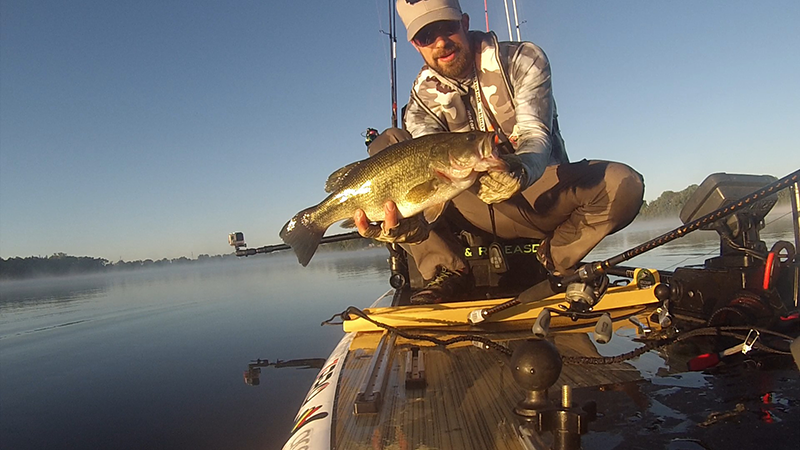 Favorite Board or Canoe: AllDay Hybrid is my main vessel and use it almost exclusively for both fishing and a quick paddle on the lake. I have been almost everywhere and in many weather conditions on the All Day. It has never let me down. The best part about the All Day is it's versatility, when I'm competing, my load out includes a trolling motor, sonar display, raised seat, gear bin, pole rack for 8-10 poles, and a couple of new devises each year as I develop them.
Favorite Place to Paddle: I love paddling early morning's before the sunrise on a calm lake, also love the challenge of a river paddle with swift currents. The reason I got into Paddle boarding was the ability to get on the waters that are a challenge to get on and that don't see any other people on them. The Boundary Waters on a board are a dream come true and I plan on returning to many times in the future.
'Must Have' items on the Water: well I have three "must haves" . First one would be a paddle....sound obvious I know, but I have been without and it's a must have. Second would have to be a life jacket and leg leash combo. Safety is important. My third is a fishing pole...almost never not have a pole or ten with me when I'm out on the water.

Brand Ambassador
Alek Henseler
I enjoy just about everything that involves the outdoors. In the spring and summer you will likely find me fishing for smallmouth, walleyes, or crappies in northern Wisconsin (often from my All Day Hybrid). The rest of the year I spend in the woods and taking time to travel and explore with my wife and two dogs.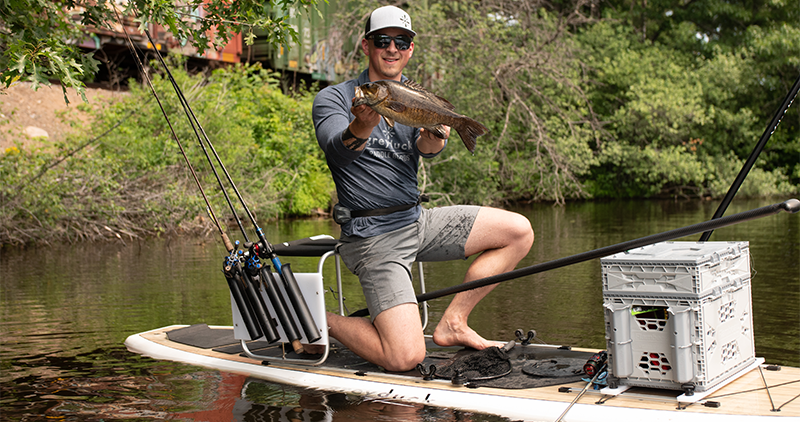 Favorite Board: I love my All Day Hybrid. It is great from everything to a long day on the water fishing to a quick paddle with family or friends. It has the stability for me to feel comfortable loading it up with fishing gear and rods but still stays maneuverable enough to be fun to paddle. 
Favorite Place to Paddle: My all time favorite place to paddle is Door County, Wisconsin. The combination of an incredible fishery, coupled with views that cannot be best make the peninsula one of the best paddling destinations in Wisconsin. 
Paddling Must Haves: Number one in my book is safety so you will not find me on the water without a life jacket. Besides that, I will almost always bring some sort of fishing gear; you never know when you'll stumble onto an amazing bite! 
Brand Ambassador
Beth Poliquin
@olapakai and @trainingwithbethpoliquin
My favorite place to be is on the water. My favorite people are my husband and our two daughters. I'm grateful to have lived in several very different parts of the country because there is so much to explore all over! I am a certified personal trainer and love combining health and fitness with the outdoors.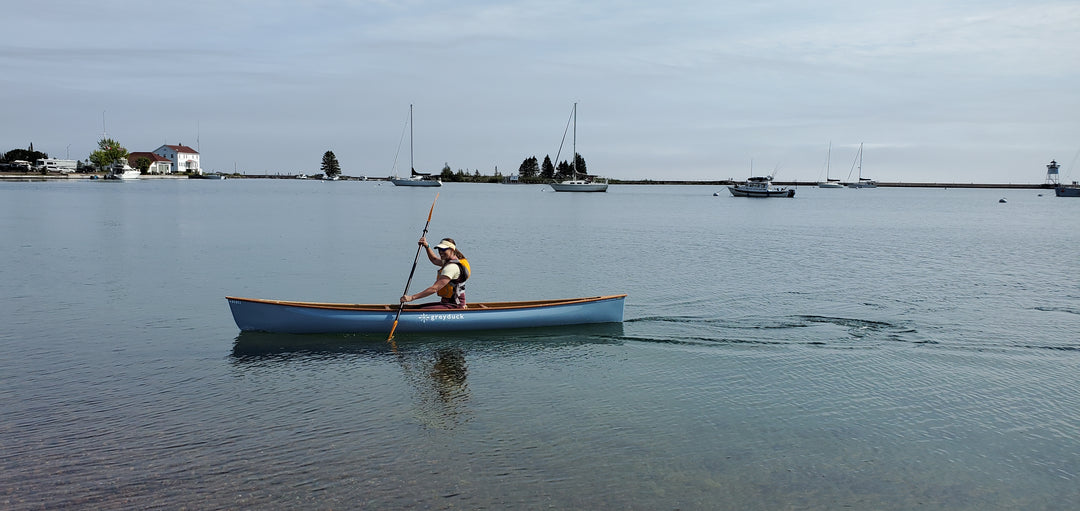 Favorite Board:
12.6 Journey Zebrawood, or the inflatable Aurora for whitewater rivers.
Favorite Place to Paddle:
Somewhere new! I love exploring new water on a board. I've spent extensive time on Hawaiian waters and Lake Superior's north shore and am currently trying to paddle as many lakes, ponds and even rivers in Maine as possible.
Paddling Must Haves:
Water bottle, snacks, and my phone to take pictures and record my track. When I'm with my girls or new paddlers, I usually have a tow belt and first aid kit.