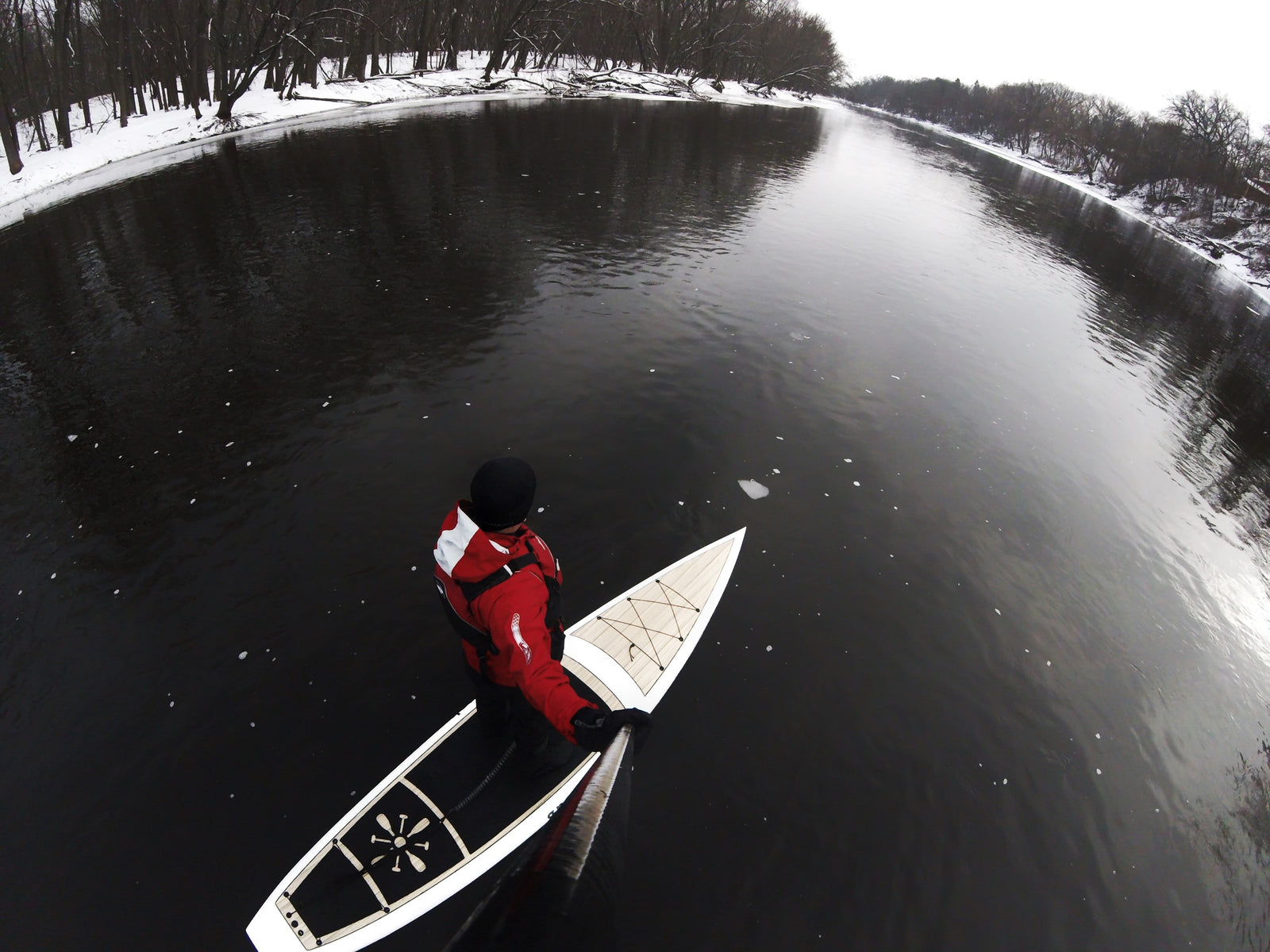 There are parts of the Mississippi River in and around Minneapolis that still has open water. This is awesome, as it's fun to paddle in all seasons and the wildlife on the river is abundant this time of year.
It's also a dangerous time of year to be out on the water. Always assume you could end up in the water. With low water temps, it's critical that you're dressed for being IN the water.
Here's a picture of the key gear I wear when stand-up paddle boarding in cold water:
1) Leash - Rivers are typically the only type of water that is open this time of year, due to the fact that water is always moving. This also means that if you happen to hit a submerged object and you end up in the water, you want your board to stay close to you. Wearing a leash helps ensure that your board stays close should you end up in the water.
2) PFD - PFD's are always important to wear, but many people during the summer months use inflatable belts or just let their PFD sit on the deck of the board. During cold weather paddling, it is critical to be wearing a PFD at all times (and not the type that needs to inflate, it's just too risky under these circumstances).
3) Dry Suit or Thick (7mm) Wetsuit - Assume you'll end up in the water. And not just for a few seconds. Being prepared to be in the water for an extended period of time just makes sense. Don't risk your life thinking that you won't fall in or that you'll be fine if you do. Be prepared!
4) Water Shoes - I wear a dry suit, so booties or shoes that you can walk in not only are comfortable and provide insulation, but also protect the dry suit from damage.
The National Center for Cold Water Safety is the gold standard as a resource for more information on cold weather paddling. It's well worth the time to review their site extensively. Here are their 5 Golden Rules:
1) Always Wear your PFD
2) Always Dress for The Water Temperature
3) Field Test your Gear
4) Swim Test your Gear Every time you go out
5) Imagine the Worst that could happen and Plan for it 
I hope this information is helpful. Please get in touch with any additional questions or comments!
---