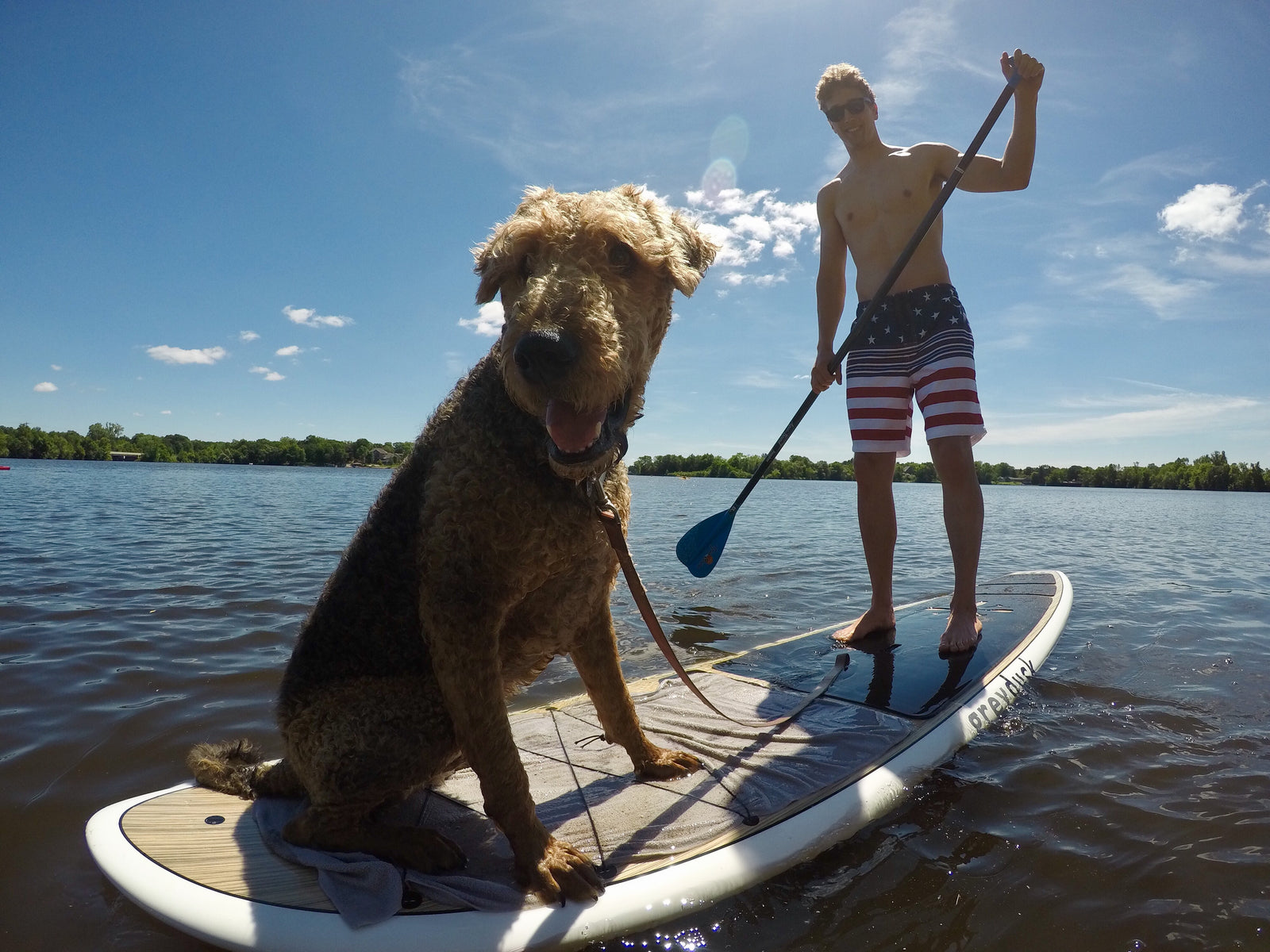 Written by Grey Duck Ambassador: Dara Wolf
On a hot sunny day, there's no better place to be than out on a paddleboard, and if you have a dog you don't want them missing out on what could be a great adventure for both of you!
The first time I was out on my board, I knew my water-loving dog, Stanley, would love to be there too. I really wanted him to be able to come with on my lake adventures, and to be sure that paddleboarding was something that we could do together throughout the warm months.  
A few weeks ago, my boyfriend, Spencer and I packed up the truck, our dogs (Stanley and Stache), and were set for Lake Maria to get their paws wet for the first time on the boards! While it was a very wet experience, I am happy to write that the pups are now standup paddleboarding pros! We compiled some tips and tricks below to help owners and their dogs get acclimated to exploring the water together for the first time.
If you have a high-energy dog, let them burn off some energy in the water or on the beach while you unload your board. We had Stanley and Stache frolic in the water and run around until they were pretty tired. Once they both laid down in the grass, we knew it was time!

Let your dog sniff and get comfortable with the paddleboard on land. We brought some treats and had our dogs sit, stay, and lay down on the paddleboards before even getting near the water. We wanted them to understand that the board was nothing to be afraid of and a to see it as a safe spot for them to sit on. At this point we strapped their doggy life jackets on just to be safe.

Once your dog has have mastered sitting or lying down on the front part of the board, try sitting or standing on the board with them. Keep the treats handy to get them to stay! Tip: if your pup is having difficulty staying in the front half of your board, bring a towel to have them sit on to provide more grip.

Next, we each paired up with our dogs and slowly pushed the boards into the shallow water while our pups sat on the board. Offering lots of encouragement, they slowly found their balance. I walked up and down the shoreline with Stanley laying on the board as he grew accustomed to the waves and water.

Once Spencer and I sensed that the dogs were comfortable, we teamed up and he encouraged Stanley as I slowly sat up on the board next to him. From here, I was able to paddle slowly and get the feel for having an extra 85 pounds on the board with me, figuring out the movements and balancing on the board. Remain calm and anticipate your dog's movement to counter-balance the board while they try to find theirs.

Stanley didn't quite understand that he needed to remain at the front of the board to keep us balanced, so he took to walking around, standing in the middle, and testing the very edge of the board. Several times, his moving around led us to both fall in. While the water felt great, Stanley was a little nervous the first few times. Because we both had lifejackets on, it wasn't too difficult to help him get back on the board and then hoist myself up too.
It was so fun to be able to have our dogs along for the day at the lake. We didn't know what to expect or how the dogs would react to the water, but it has now become something they really enjoy! When they see us loading the paddleboards into the truck, they immediately jump in the back seat in preparation for the next adventure.
While it can take a lot of patience, and depends on the personality of your pup, bringing them with you on the board is definitely worth a shot. Stanley and Stache really seemed to enjoy being out on the water and are getting more and more comfortable with each visit to the lake, and Spencer and I are so happy to have them along. After all, it's the dog days of summer!
---