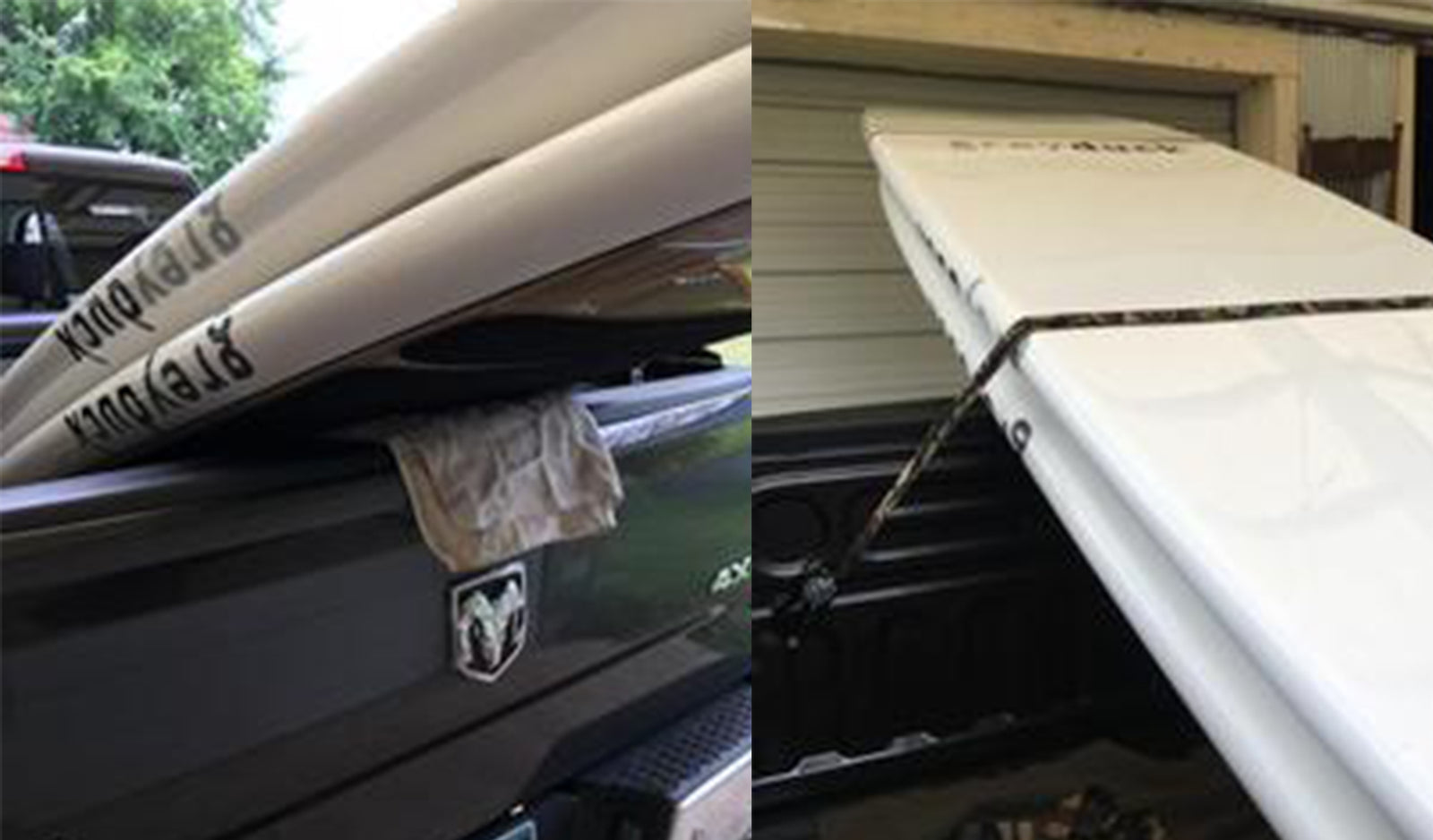 Despite the weather the SUP season is just around the corner. Whether you are picking up a new Grey Duck board, heading to your favorite lake, or planning a weekend trip; transporting your board is an important part of your SUP experience. Transporting your SUP may seem like a daunting task but by following the steps below it can be a breeze. Moving your SUP is especially easy if you are fortunate enough to own a truck, as demonstrated in the steps below. Along with the truck you will need two towels and two ratchet straps. Start by placing one towel at the base of the truck bed and place the second towel at the end of the tailgate.
Set the rear of your first board on top of the towel in the base of the truck bed with the traction pad facing downwards. Repeat this step if you are hauling an additional board. Be aware that you will need to remove the fins prior to placing the boards in the truck. We have found that placing the rear of the board in the bed first is more suitable than the nose of the board. Using the towel will protect against any unwanted scratches.
Next lift the nose of the boards up so that the tailgate shuts and the boards are resting on top of the towel and the top edge of the tailgate.
Now that the boards are in position, set up your ratchet straps to be placed horizontally over the boards. Start by tightening the straps over the rear of the top board. This will ensure that the boards stay in contact with the bed of the truck. Next, tighten the straps towards the nose of the boards. Make sure the straps are firm in both positions, but be careful not to put too much tension on the boards. A good way to know if the straps are too tight is if the tailgate leaves an indent on the traction pad.
If your boards extend more than four feet beyond the bed or body of your vehicle you are required to display a red, yellow, or orange flag/cloth no less than 16 inches square at the extreme edge of the boards. A good way to secure the flag/cloth is by tying the flag to the tie down system- another reason we prefer having the nose of the boards hanging over the tailgate. Your boards are now secured and ready for adventure! Place your paddles, life preservers and any other gear underneath the boards and GO PADDLE!
Author - Spencer Specht
---