The Grey Duck Difference - What makes our boards unique?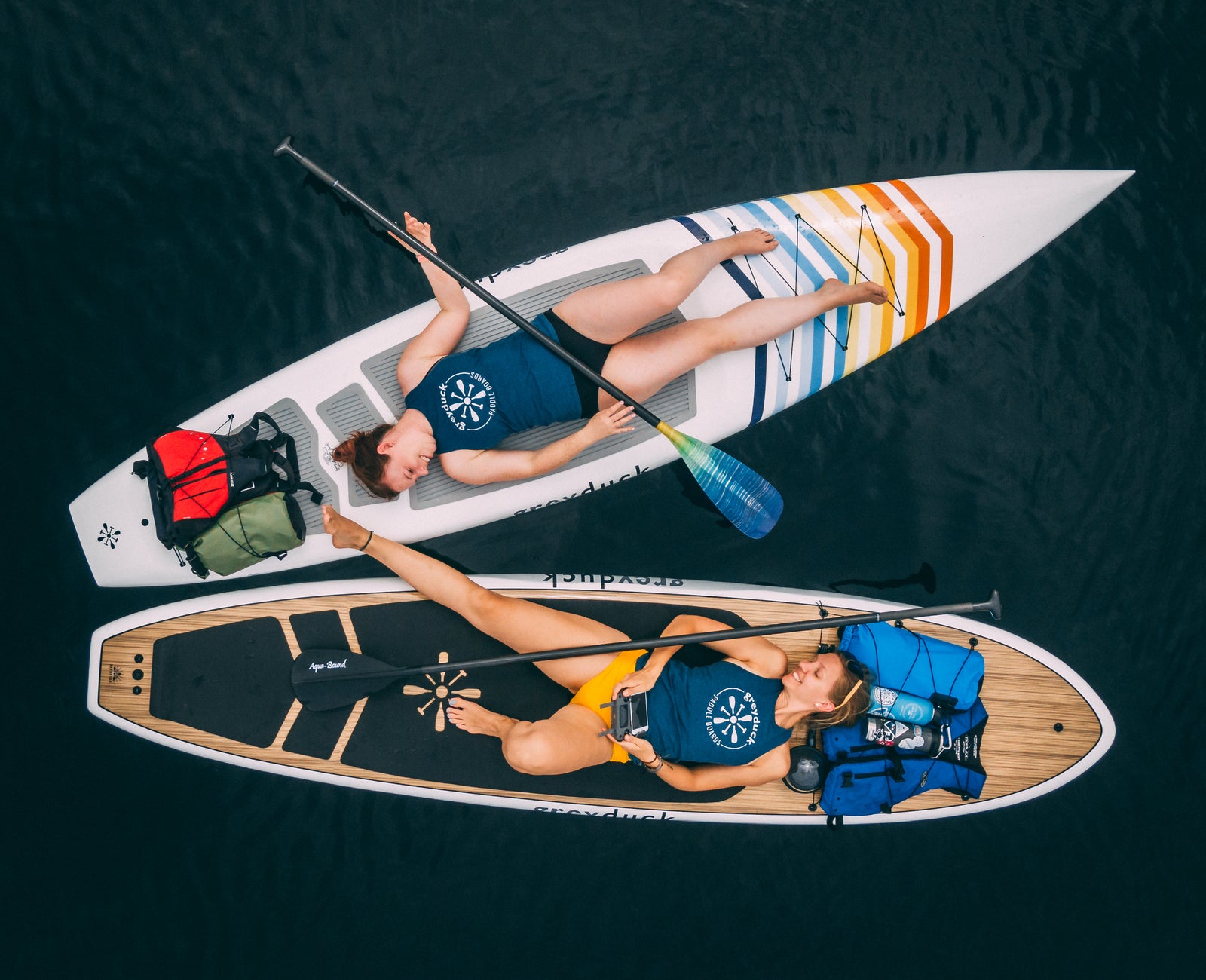 One of the questions we often receive from potential customers is how our boards compare to others on the market. It's a very good question, but more difficult to answer than it first appears. Most often, we are starting with an 'apples to oranges' comparison – one that involves comparing one of our boards to something that can be found at a big-box retailer for $399. This initial comparison is 'apples to oranges' because it involves comparing boards that are not built using the same basic materials.
Most of the inexpensive SUPs on the market are built out of rotationally or blow-molded polyethylene. It's a process that is extremely efficient and cost effective – which keeps the final product price low. These are also very durable, very heavy, and poor paddling products. It's a space we don't play in, so we prefer not to get too deep into the weeds on this type of comparison because the customer who wants the cheapest board around isn't the customer that will find our products appealing. Generally speaking, the type of construction drives the final price of a SUP. Within each type of construction, there is can be varying levels of quality, so know that there are exceptions to the general rule.
| | | | |
| --- | --- | --- | --- |
| COST | CONSTRUCTION TYPE | PROS | CONS |
| Low | Molded Polyethylene | Inexpensive, durable | Heavy, poor paddling experience, "cheap" looking |
| | Soft Top | Relatively inexpensive, lightweight, relatively good paddling experience, good value | "Cheaper" looking, not easily repairable |
| Middle | Thermo-formed | Durable, easy to repair, affordable, lightweight | Fewer options for board shape, board "look" not as refined as composite boards |
| | Inflatable | Durable, easy to store and transport | Not same paddling experience as hard board, may spend time inflating before use and deflating after use |
| High | Composite (Epoxy) | Largest variety of shapes, lightest weight, highest quality fit and finish, best performance | Cost, less durable than other construction types |
We produce products in the premium space – one that is very competitive, and where there are still large differences in how much time, effort and quality goes into a board. We've literally traveled the globe to personally visit production facilities, worked side by side with our factory owners and workers in Shenzhen, and spent almost a decade dialing in best practices to bring you the highest quality products we possibly can. I'd like to spend time diving into our composite board offerings, as this is where the highest prices are, and where the most discerning customers will appreciate differences between the brands they are considering.
I'm going to start with what I feel is probably the most important aspect to any board – the shape. Composite construction allows for complex board shapes that can be dialed in for a specific type of person and the style of riding they'd like to do. Our shapes are unique to Grey Duck, and are something we are very proud of. Each brand of SUP on the market will have their own unique shapes that cater to certain types of riders and offer a feel on the water that is unique to their brand. To compare boards from different brands based on specifications is a starting point, but making a buying decision without really getting a feel for the on-water performance would be like buying a car based on researching the car without driving it. Cars often seem very similar based on their specs, but once you get out for a test drive they often have wildly different 'personalities'. Boards are the same way, and the shape of the board is foundational in the experience you'll have on water.
While we have many different models in our lineup, and different shapes for each model, we try to maintain a fairly consistent brand 'feel' on the water. For example, our All Day and Daybreak models, while differing in both length and width, have much of the same DNA in their shape. Riding a Daybreak and then riding an All Day would provide a different experience, but both would deliver a 'Grey Duck' feel on the water. The same could be said comparing our Journey and Quetico touring shapes.
Our boards are CNC machine shaped, so that we can guarantee consistent shape and experience for our customers. Some brands market their products as 'hand shaped', which sounds more boutique (and is great for marketing!), but can lead to shapes morphing over time and not delivering the performance that was originally intended. When we develop a new board, the prototype boards are hand shaped for testing. Once a shape is determined to work well for the intended use, that board is then scanned so the shape can be captured electronically and then used moving forward on the CNC shaping machine.
Below are pictures of a board being shaped via CNC machine:

The core of our boards is EPS foam, which is then reinforced with high density foam where component pieces such as handles, fins, and leash plugs will be added later in the construction process. This is not something that other manufacturers always do, and we feel adds to the quality of our composite products. This process of adding high density foam in specific areas where components will be placed (or what I refer to as 'core bracing), results in added durability and a more structurally sound product.
Below is a picture of boards where core bracing has been added where key components will be placed:

After the board is shaped and the core bracing is added, the board then goes to through the process of lamination. We use what is often referred to as 'sandwich' construction, which involves bonding multiple layers of fiberglass and wood veneer together with epoxy resin. All of our composite boards, regardless of whether you can see the wood veneer in the final product or not, have layers of wood veneer as part of the lamination. On the regular versions of our boards, we use bamboo in the lamination process. On our Zebrawood products, we use a Zebrawood veneer in the lamination process. Regardless of the species of wood used, that layer of veneer is structural, and creates a board that is both lighter and stronger than using just fiberglass in the construction. You will often see less expensive composite board offerings from other brands with a 'wood' look to the final product, but the board is actually built using just fiberglass and epoxy, and the 'wood' look to the finish is just wood printed on paper and then laminated into the board. It's obviously less expensive to build a board this way, but we like our approach and feel that the extra cost is worth it.
We also vacuum bag all of our composite boards during the lamination curing process. This helps ensure the epoxy resin penetrates the fiberglass thoroughly and evenly, resulting in the strongest board possible for a given overall weight. Vacuum bagging adds additional cost to the process, but we obviously feel the result is superior and believe the extra cost is worth it.
Below is a picture of boards during the vacuum bagging process:

If someone chooses a board with our HIPtech construction, they'll be getting a board with all of the above technology built-in, but also an added outer layer of polymer applied to the board. Think of HIPtech in the same way you'd look at bedliner applied to the back of a pickup truck. It's an added layer of durability for riders who want a more bomber product.
After the lamination is complete, the board is then sanded, painted, polished, etc. This is where the 'look' of the board becomes clear, and another area where quality between brands becomes apparent. Board manufacturers that don't sweat the details will often deliver products where fit and finish is lacking. A poor job of taping the paint lines before spraying the paint can result in overspray, poor paint lines, or asymmetry in the final look of the product. And even if the paint job is great, if the board's gloss coat is over polished it can leave a dull haze or 'cloudy' look to a board.
As you can see, there are many points along the way in which building a high quality finished product can get sideways and go wrong. Products that both look great AND perform well are harder to build than most people think. Once you start to appreciate not only the fit and finish, but also the shape and performance it becomes easier to see where the extra dollars are being spent.
Finally, there is one other aspect to consider in a board. It's the functionality of the design. For example, on our Quetico model, we offer a sit/carry system that is unlike anything offered by any other manufacturer. The creativity and thoughtfulness in the small details you see on the outside of the board are reflective of the thoughtfulness in which every other component of our products are built. We sweat the small stuff, and we're constantly trying to improve on the value we deliver to our customers. 
We hope that we've given you a glimpse into our manufacturing process, and what we feel is important. As always, we'd love to hear from you if you have any questions. We're here to help you make a buying decision that you're proud of.
---