What to Include in Your Emergency Bag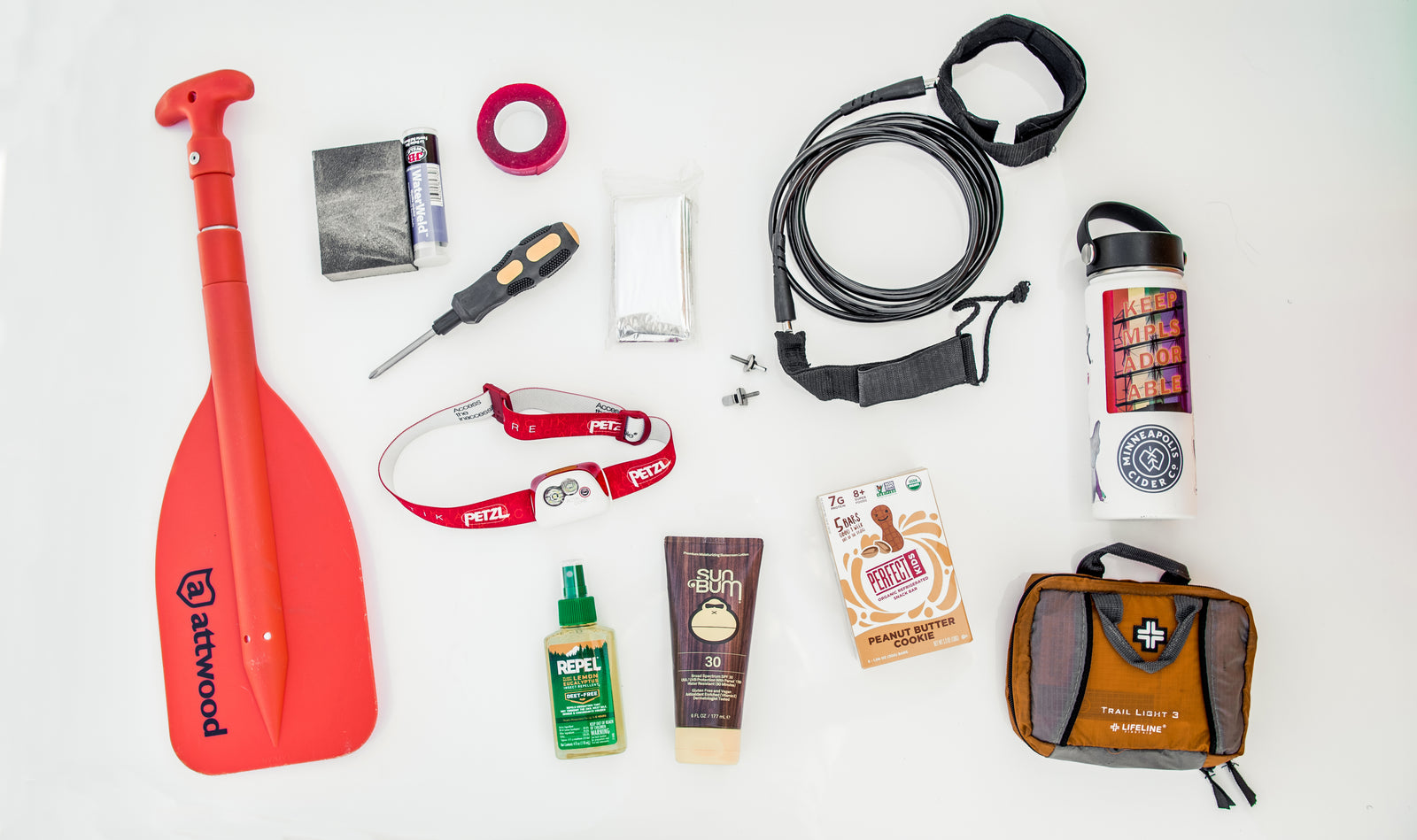 No matter how adventurous you are on a paddleboard, or how far you plan on exploring, you always want to be prepared for the worst to happen. It's not fun to think about and you hope it's never a problem but accidents and emergencies can happen. It's better to be practical and prepared than injured or stranded.
What your emergency bag could and should look like, will vary depending on where you're paddling, the length of your trip, and the water and weather conditions. For those of us going on a short paddle around the local lake, our emergency bag may look quite a bit different from someone going on a multi-day excursion. No matter the paddle, there are a few essential items you should always have on you.  We'll break down our must-have items for all paddle adventures and what we'd include on longer day or multi-day trips.  
Water - No matter the length of the paddle trip, we always have water on hand.  There's nothing cooler than being hydrated!
Sunscreen - If it's sunny or cloudy, sunscreen is important for keeping you protected. The reflection of the sun on the water can increase your risk of sunburn. Also, if you fall in or jump in the water, your previously applied sunscreen can wear off more quickly leaving you vulnerable to sun damage, heatstroke and/or dehydration. **See our recommendation for water above
Life Jacket - This should be a given since it's the law but bring a life jacket. Even the best of swimmers can find themselves in a situation where they need a life-saving flotation device. Don't go out without one.
Whistle - The DNR recommends tying a whistle to your life jacket in case of emergencies. In the off chance you end up in the water and can't get to shore, a whistle can be helpful for getting someone's attention.
Leash - Depending on where you are paddling, there are different types of leashes you should wear. If you are paddling on a river, please be aware of the dangers of having your leash get tangled underwater and make sure you have a proper quick release option. However, with lake paddling, having a leash can help keep you from losing your board if you fall in the water.
Spare Fin Screw - These guys are small, easy to drop and easy to lose. Don't get stuck without one. Trying to paddle without a fin is extra work you don't want to do.  We recommend these hand tightening screws in case you also misplaced your screwdriver.
Screwdriver - If you've moved to all hand tightening screws, good for you! Feel free to skip this recommendation. If you are still using normal fin screws, don't forget your screwdriver for taking your fins on and off as needed. 
Snacks - Depending on the length of your trip, you may want to bring a snack or multiple snacks. This can be helpful if you get stranded somewhere and your trip time is extended longer than you anticipated. It can also be nice to have if you want to have an impromptu picnic in the middle of the lake.
First Aid Kit - For any bumps, bruises or scrapes that may occur, having a small first aid kit can be helpful. For longer, multi-day trips, you'll want to expand your first aid kit in case a more serious injury occurs and you can't get immediate help.
Epoxy Puddy & Sandpaper (200 grit) - In case your board hits something other than water like a rock, a tree, or something man-made, you can use sandpaper to smooth down any nicks and apply epoxy putty for a quick seal. 
Flashlight / Headlamp - For those of you taking longer day trips or overnight trips, bring a flashlight or headlamp in the off chance that you are paddling in the dark or are stranded on land.
Foil Emergency Blanket - While you should always be dressed appropriately for the current water temperature and weather, a foil blanket can be a good backup.
Emergency Paddle - Don't get stuck down creek without a paddle! Especially on longer multi-day trips, bringing an emergency paddle along is a good idea. There are some inexpensive options that won't take up a lot of space but can get you out of a bad situation. We recommend this telescoping option by Seachoice.
---